Friday, November 4th, 2022 at 6:05pm
Online registration will open in May.
The Starlight Stroll is a unique fundraiser which will open the door for area runners, walkers, and those with disabilities to join together in a healthy community activity.
For questions you don't see answered below, please email David Bittner at dbittner@winonaorc.org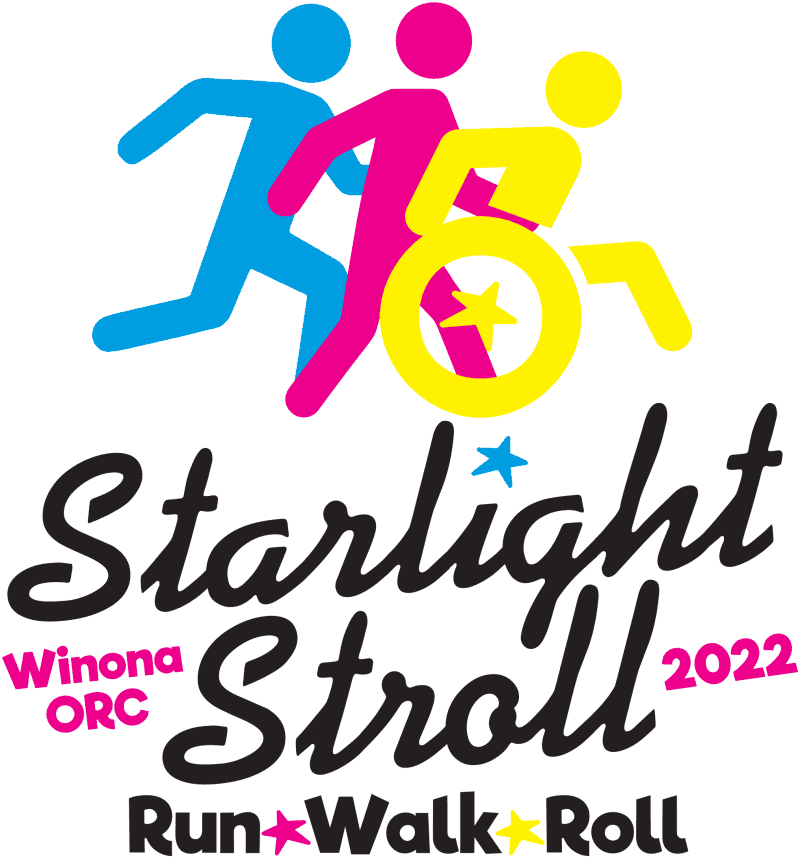 Starlight Stroll FAQ's
No, most definitely not. Starlight Stroll 5k and 1 mile Run/Walk/Roll is a promotion of health by enjoying a glow in the dark themed 5K Run.
Alcohol is not permitted at this event. There will be drinks and refreshments for participants at the end of the race provided by our sponsors.
NO, definitely not. The world is full of timed runs for the serious runner. Starlight Stroll 5K and 1 mile is timed, but is more about having a blast with friends and family. Walk, run, dance and party across the finish line anyway you like.
Official Starlight Stroll Run/Walk/Roll t-shirt! (Guaranteed for pre-registered participants)
Assorted glowing accessories!
Finish line refreshments
Yes! You can register as an individual or as a team. Individual registration is straight forward; simply fill out the registration form and send in! To register as a team you must have at least five (5) people fill out and sign their forms and send all in at the same time!
Dress just like you would to go for a run, only wear your brightest neon, glowing accessories and running shoes.
Yes please do! Dress it up and make it glow! Just please start in the back.
Unfortunately Dogs and Cats and Running Animals are not permitted by the Venue and Insurance Companies.
Starlight Stroll Weather Policy
During events there is always the potential for extreme or severe weather conditions (for example: lightning, tornado, high winds, extreme hot or cold temperatures, blizzard, etc…). The Starlight Stroll committee will do as much as we can to make the experience as safe as possible.  But if there is severe weather, the race may be delayed as race officials consult public safety officers.  If there is more than a reasonable delay, or if conditions persist, race officials reserve the right  to shorten or cancel the race. Entry fees are non-refundable.  Please check the website and your email before the race for any changes or cancellations.  If you  are already at the event, listen to the announcer about any weather changes that may occur.