Linen Management Services
Customer Service
The key to a successful partnership between your health care organization and Winona ORC is our service relationship.
At Winona Laundry, your needs are our first priority. As your partner in linen management, we will work with you to maximize effiency and eliminate waste. We will work with you to find solutions to the challenges you face–stains, dingy whites, softening–and provide you with the consistent service you deserve.
Our employees and staff take great pride in their linen management service we offer you. The Winona Laundry service provides close to 30,000 hours of meaningful work for our employees who produce 160,000 pounds of processed laundry annually.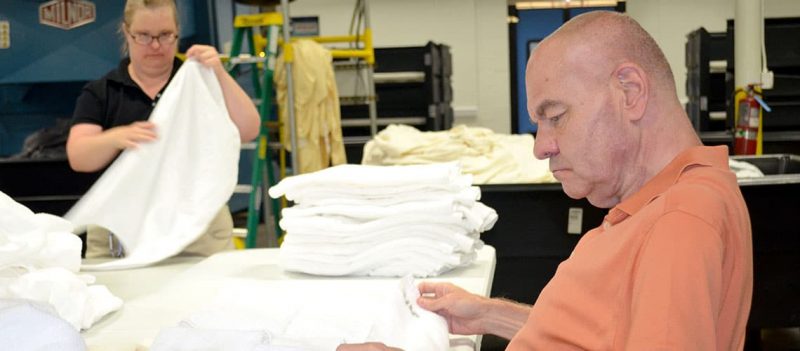 Quality Assurance & Sustainability
Winona Laundry strictly adheres to the highest industry standards. You can be confident that your linens are hygienically clean using eco-friendly compounds in compliance with all current regulations and best practices. Our state-of-the-art facility incorporates a multitude of energy efficient and eco-friendly practices and equipment. Our steam-free facility utilizes direct contact water heating and energy reclamation processes. This results in reduced energy consumption and allows us to be good stewards of our natural resources.
Our staff is committed to excellence and is rigorously trained in infection control, safety, and linen management.
Advanced Technology
Winona Laundry is built specifically for processing healthcare linens and designed to meet the most stringent healthcare regulations. Soiled and clean linens are separated by a barrier wall with integrated pass through washers. We utilize an advanced air flow system reducing the risk of airborne contaminants.
Sophisticated linen management software ensures that your linens will be tracked through the entire cleaning process from pick up to delivery!
For all of your laundry needs, please contact Eric Mueller, our Laundry Manager, at 507-452-1855 or emueller@winonaorc.org.